Ugh, what a night- my feet are still killing me.

Yes, the party went better than expect, and out of the 60 people we invited, 18 came- well, shows how popular we are, and the only person that I can accept is Talie, as she told me LAST WEEK. Everyone else told me this week, and some told me on Friday. Well, they're going to get an earful on Monday.

In the end, quite a lot of people were dancing, and of course, there were the odd groups here and there who didn't dance until they were forced to, but me, Emily (the other member of the 'Leonard Lovers') and Sophie were dancing all the way through... and I fear my feet will drop off some time soon.

My Ianto outfit came out BRILLIANTLY! I adored it, but I got really hot in it- well, what would you expect in 3 layers, a tie and pinstriped trousers! Anyway, pictures: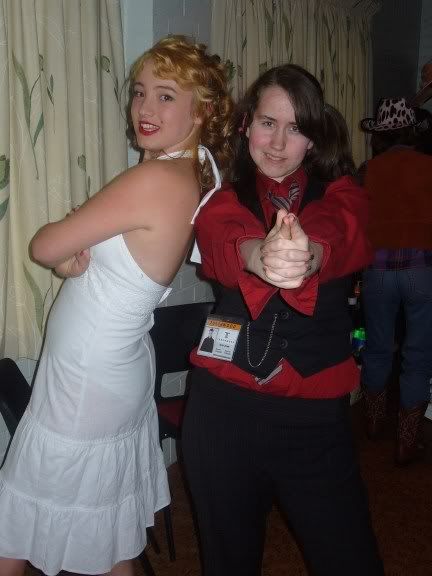 Me and Sophie biggin' it up! Guess who she's gone as! Anyway, yes, there's my Ianto costume *headdesk* I look a bit of a twat in that picture actually! We had to take two, because I was an idiot, did the gun/hand thing and it was right infront of my face!
The Leonard Lovers in business! There's me and Emily, and the whole reason I look a bit spazzy is because she hugged me and I didn't realise she was going to! I look a little fat in that picture D:


So, all in all, a good night!

Plus, I've found some FRIGGIN' good stuff on lj, I have a banner and lil' icons in my blurb *grins* PLUS I'm writing a mini script about an American doctor coming to England- it stars Johnny Galecki, who is LOVE dammit :D Watched TBBT on Friday, that was a bunch of lols, I want the boxset *pouts*

Going to watch Doctor Who tonight- from all the reviews, it sounds good, so WAHEY :D

I actually bought 'Something in the Water' for Sophie for her birthday (along with a Guy of Gis figure from RH!) because she loves Owen, and it was 3 for some price at amazon and so I got that and the one with Jack running along with those 3 weird men behind him (a normal day for Capt Harkness then!). I've almost got the entire Series 2 collection of books, and I'm reading...er... Slow Decay at the moment! Not as good as Twilight Streets, but it's still a pretty good book :D